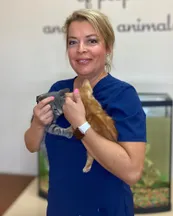 Rachel Torres, Veterinary Assistant
Rachel joined the Pacific Crest team in June 2013. Rachel enjoys spending time at home with her family, her six dogs, and her four cats.
---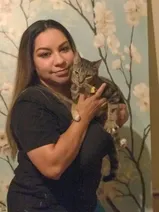 Denise Stevens, Veterinary Assistant
Denise was born and raised in Tulare, CA. She started her career in the Veterinary field when she was 17. It brings her great joy to love and care for animals. When shes not working she loves spending time with her family and going to the beach.
---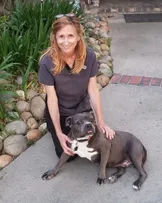 Danette Ingram, Registered Vet Technician
Danette, also known as "Dani" grew up in Manhattan Beach and her love of animals was obvious at a very young age. She Graduated in 1984 from LA Pierce College with and AS degree and became a Registered Veterinary Technician. Her 36-year career has taken her to Torrance, Gardena, and has been living in Visalia for 25 years. Early on, she found herself with a special interest and talent in Dentistry. One year ago, she joined our team and has continued to be a valued part of our Pacific Crest Team. She is newly married and is a proud mother to 4 grown girls and a grandmother to 4 sweet grandchildren, along with her dog Yoda and 2 cats, Blazer and Jack.
---
Samantha Jones, Veterinary Assistant

Samantha, also known as Sammi Kat, started at Pacific Crest last October. Born and raised in California. Ever since she was young she knew she would be working in the veterinary field. She has been working with animals for years ranging from dogs and cats to hawks, owls, lions and other big cats. She has two chihuahuas, Chaka and J.D and four witties. Sam is also a performer, she swallows swords and eats/breathes fire, swing dances, and also does theater

---
Hannah Daglish, Veterinary Assistant

---
Maria "Carmen" Leos, Veterinary Assistant

Carmen Leos , mother of 3 beautiful girls and married to an awesome husband for 15 years and proud owner of 5 rescued dogs and recently adopted our first cat. Working as a Veterinarian Assistant at Pacific Crest Companion Animal. I love my job !
I love to interact with the patients and their owners. I am very passionate about my work and try to do my best every day.
Hobbies: I love to travel and try new food!, bake and decorate cakes, crafts using my cricut machine but most of all is having a good time with my family.
---
Rebecca "Becky" Denton, Veterinary Assistant
Becky has been in the veterinary field for over 18 years! Becky loves spending time with her husband, 3 kids, 6 grandkids and 2 great great sons. She spends her pass time watching Nascar and enjoying time with her family.
---
Alex Trejo, Certified Vet Assistant
---
Macey England, Small Animal Receptionist
Born and raised in Tulare, CA. Macey loves going camping in her spare time with her family and friends. She also enjoys being with her boyfriend and their sweet fur babies Dozer, Max & Layla! Macey loves working with all of our staff and the variety of animals.
---
Jenna Mann, Small Animal Receptionist

---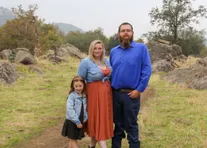 Breann "Nicole" Allen, Small Animal Manager/ Human Resources
Breann also known as "Nicole" was born and raised in Tulare, CA. She enjoys her spare time with her Husband, daughter, three dogs(Honey, Angus & Stella) and three cats (Butternut aka "Buttnutt", Pumpkin aka "Chunkin" & Chili). She also enjoys traveling and photography!
---
Charla Clark, Inventory Manager

Charla grew up in Exeter and joined our team in 2018. She graduated Veterinary Technician College in 1988. She has 2 daughters and 4 cats. For over 20 years, she also works at Ward Ranch Performance Horses. In her spare time, she enjoys traveling, PBR, Rodeos and attending any type of festival.
---